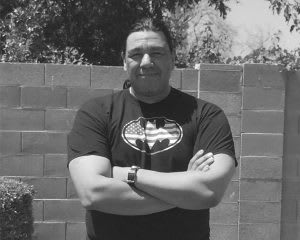 Manny
Manny has been teaching Krav Maga to Civilians, Law Enforcement and Military since 2001. During that time, he continued to improve his teaching skills whenever possible, always looking for better ways to transfer knowledge to his students. Manny has successfully taught individuals, as well as small and large groups, both basic and high level techniques in a unique way so that his students not only learn to perform the techniques with proficiency, but also have fun learning.
Manny completed each section of his instructor phase training at Krav Maga Worldwide's National Training Center in California. He was certified to teach by U.S. Chief Instructor, Darren Levine, who brought Krav Maga to the United States. Each time at the National Training Center Manny was also lucky and privileged to train with some of Krav Maga's greats, like John Whitman, Michael Margollin, Wade Allen, Jon Pascal, Sam Sade, Jarret Waldman, Amir Perets, and many others. All of these talented instructors inspired and instilled in Manny the most important part of teaching which is the effective transfer of knowledge to students. Manny took this lesson to heart and continues to develop creative training drills to help students gain confidence and proficiency with each technique. In 2007 Manny was honored to be nominated for Krav Maga Worldwide's instructor of the year.
One of Manny's biggest talents is to create seminars that address modern day threats that involve defending yourself and your loved ones in various situations: carjacking defense, active shooter threats, hostage situations, rape prevention, and others… The seminars are designed to transfer knowledge in a fun way so no one gets bored, but they still learn a valuable technique. One unique thing about Manny's teaching style is that he incorporates movies and TV shows while he teaches. While teaching a technique he will make a reference to The Godfather, Star Wars, The Walking Dead, etc.. It is impossible to finish a seminar without learning valuable techniques that are not only effective, but practical. Everybody learns, whether you have prior experience or no experience at all.
Manny's love and training in the martial arts started at an early age and continues to this day. The desire to learn those cool moves that he watched in action movies as a kid lit a spark in himthat never died. Sonny Chiba, Jim Kelly, Toshiro Mifune, Gordon Liu– what they did seemed like magic. What Manny has learned over the decades is how to effectively transfer the knowledge (magic) to others. Manny never thinks he knows it all and continues to improve himself and others. His ongoing search for knowledge consists of both historical and hands on research, making sure every student gets the best possible training.